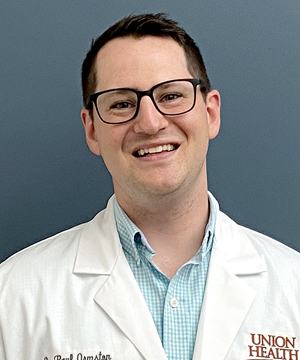 Residency Class of 2024
Hometown: Lethbridge, Alberta, Canada
Clinical Interests: Full spectrum care, procedures, and emergency medicine.
Personal Interests: Biking, cooking, working on cars and motocycles, dirt biking, and spearfishing.
Why I Chose Union Hospital Family Medicine Residency:
Union Hospital trains family medicine residents to practice with a very wide scope. The opportunity to pursue training in procedures in an unopposed environment was also very appealing to me. I also rotated at Union as a medical student and felt that the faculty and staff I interacted with were second to none. I knew if I were fortunate enough to match at Union Hospital, I would receive excellent training from excellent physicians in a supportive environment with colleagues who felt like family.