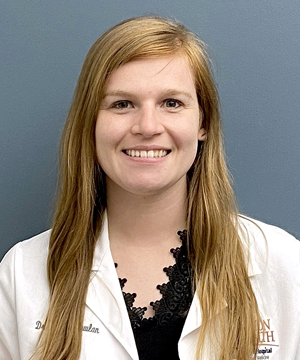 Residency Class of 2024
Hometown: Coffeen, Illinois
Clinical Interests: Rural medicine and sports medicine.
Personal Interests: I love anything outdoors including running, hiking, and off road riding. In my down time, I enjoy reading, cooking, and baking. I also love playing and snuggling with my cat, Cass.
Why I Chose Union Hospital Family Medicine Residency:
By working with multiple Union Hospital Family Medicine Residency graduates, I knew that Union not only prepared physicians but gave them the tools to succeed in residency and beyond. This, in addition to being unopposed and offering both rural and sports medicine tracks, really drew me to this program. Feeling at home during the interview was just icing on the cake.