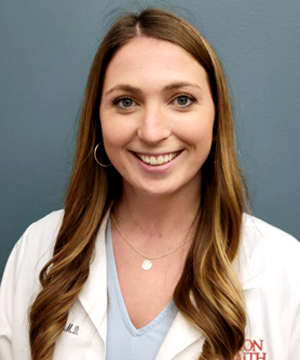 Residency Class of 2025
Hometown: Greenville, Illinois
Clinical Interests: Outpatient clinic care with specific interests in training in addiction medicine, procedures and endoscopy.
Personal Interests: I enjoy anything outdoors including running, hiking, hunting, fishing, and anything sports related! I also love to bake and draw or paint to relax! But more than anything, I love spending quality time with my husband, family, and friends.
Why I Chose Union Hospital Family Medicine Residency:
My first impression of the Union Family Medicine Residency actually came from working with program alumni. My experiences with these graduates revealed the high quality, well-rounded education and tools that the program provides as it prepares its residents to enter their own practice. In addition to the advantages of an unopposed program, the residency also provides training in the various areas of medicine that I am interested in including rural and addiction medicine tracks, as well as endoscopy and other procedures. Most of all, my interactions with faculty, staff, and residents during my interview truly made me feel at home and that my training would be in a very supportive learning environment.