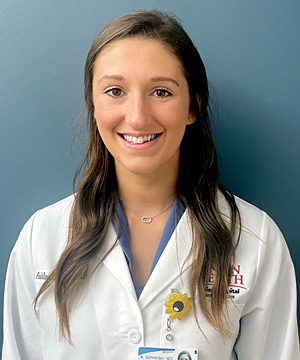 Residency Class of 2026
Medical School: Southern Illinois University School of Medicine
Hometown: Nokomis, Illinois
Clinical Interests: I value broad spectrum rural family medicine in the inpatient and outpatient setting, as well as procedures, addiction medicine, and geriatrics.
Personal Interests: I enjoy spending time outside by running, golfing, and enjoying a good porch. I love to spend time with my fiancé, family, and cat, Lou. Every fall I look forward to cheering on the Michigan Wolverines. Go blue!
Why I Chose Union Hospital Family Medicine Residency:
From my first interactions with residents even prior to interviewing, I could tell that Union was a tight knit group of residents and faculty who loved what they did and supported one another. Everyone I met during my interview was kind and welcoming, and they made my fiancé Michael and I feel right at home. I also valued that the program provides abundant learning opportunities in rural medicine, women's health, and inpatient and outpatient procedures. I plan to practice broad spectrum family medicine in a rural setting after residency, and I know Union will encourage my goals and prepare me to excel in all aspects of my future practice.