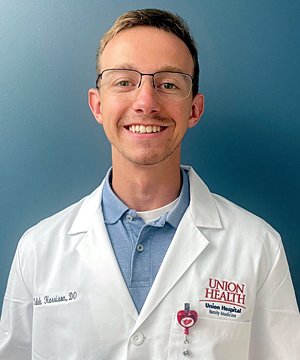 Residency Class of 2026
Medical School: Marian University College of Osteopathic Medicine
Hometown: Clinton, Indiana
Clinical Interests: Rural Medicine, Emergency Medicine, Inpatient Medicine, Procedures
Personal Interests: I enjoy running, golf, and pickleball. I also enjoying watching college and professional sports as much as I can. More than anything, I love spending time with my family, friends, my wife, and our two dogs.
Why I Chose Union Hospital Family Medicine Residency:
I was fortunate enough to do multiple rotations during medical school with residents and graduates of the Union Hospital Family Medicine Residency. It was evident to me that the program could thoroughly prepare me for my career in family medicine, regardless of the practice setting I choose to pursue. Further, the program is filled with exceptional faculty that have created an excellent learning environment. Finally, the program allows me to be close to my family and friends in my hometown of Clinton, IN.